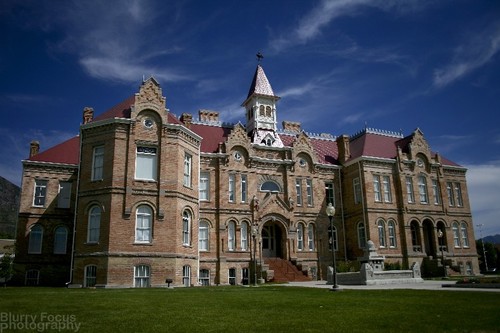 Apparently every year on the Friday before Halloween, the Provo Library holds a scary storytelling up in the attic of the building. The building was renovated a while ago, and the attic was the only part never touched by the remodel. So a scary storytelling up in the attic would be a fun Halloween activity, no?
No, it's not.
I'd never heard of it before now, and there's a reason for that.
The storyteller--Ginger--was . . . well . . . entertaining, I suppose?
Story 1: Three boys can't go trick-or-treating and go to a witch's house instead, because the town grocer told them that "some things that happen on Halloween can't be undone."
Story 2: A woman dies and has her hand cut off. She left a little baby behind whom the innkeepers rear. A creepy peg-leg comes after her and tells her that "she's meddling with magic that she knows not from whence it came from" (yes, that was the spoken syntax--shudder).
Story 3: The evil stepmother gets sick of the stepchildren, so she cooks them and feeds them to their father.
Story 4: A bratty girl dies because she won't listen to her mother.
I was continually laughing because I felt so uncomfortable and the stories were so awful. Spooky? Definitely not. Funny? Only in an uncomfortable way. There's a reason I'd never heard of this particular Halloween event.